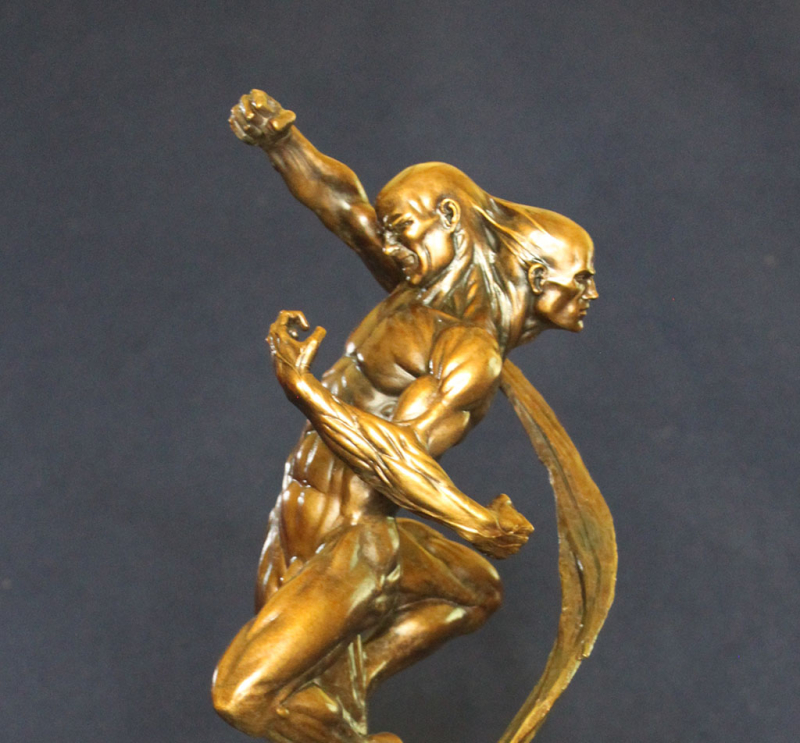 Écorché with James Shoop - Anatomy for Artists Class Two: The Muscles
with James Shoop
$40000
Using the skeleton from Class One you will learn the process of applying the muscles. You may choose to sculpt the muscles on the right side or both sides. We will start with the leg, then torso, next the arm, and lastly the head. We sculpt the deepest muscles and layer out. This technique will teach you not only the muscle origins and insertions but also mass, form, tendons, fat pads, and the bones showing through. This unique process of studying anatomy will benefit artists who draw, paint and sculpt the human form.
THREE 2-DAY SESSIONS
Session One, Day 1: Adding the upper leg muscles.
Session One, Day 2: Adding the lower leg muscles.
Session Two, Day 1: Adding the torso muscles.
Session Two, Day 2: Adding the arm muscles.
Session Three, Day 1: Adding the muscles to the skull.
Session Three, Day 2: Refining the head muscles and where needed.
Starting SATURDAY & SUNDAY, Mar. 9 & 10, 1:00 - 4:00 PM
SATURDAY & SUNDAY, Mar. 16 & 17, 1:00 - 4:00 PM
SATURDAY & SUNDAY, Mar. 30 & 31, 1:00 - 4:00 PM
Instructor: James Shoop. $400. Limit 10 students.
Supplies: Skeleton from Class One, Oil-based clay - Chavant NSP Brown (medium) two 2lb blocks -Buy from James Shoop or order online Books needed: Eliot Goldfinger Human Anatomy for Artists (I have 3 to borrow); Suggested - Gottfried Bammes Human Anatomy
James Shoop has been a professional sculptor since 1983. He first started sculpting at his family's foundry, Shoop's American Bronze Casting. Here he apprenticed under his father and learned many aspects of sculpting and production. In 1993 James began study at The Art Students League, The National Academy of Design and The New York Academy of Art. During this period he concentrated on the study of the figure, learning about anatomy, form, composition and technique. While in New York, he began his commercial business Shoop Sculptural Design. Today it is a premium studio specializing in 3-D sculpting, mold making, casting in bronze, resins, hydra stone and aluminum, paint masters, clothing/costume construction and pattern making. James has created a body of work that expresses his passions and interpretation of the human form. 
Mar

9

-

31st

,

2019

Sun and Sat

from

1:00 - 4:00 pm
The Atelier
(612) 362-8421
1681 East Hennepin Avenue
Minneapolis, MN 55414 Get directions