Filter by Category
Life Drawing Workshop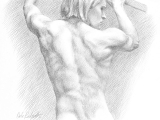 Life Drawing Workshop
with Laura Tundel

Jul 10, 2023 at 1 pm

, runs for 1 week
Experience our full-time program in a week-long workshop. Choose from morning basic drawing, afternoon life drawing, or both.
Life drawing is at the core of any serious program of fine arts. In the class, students draw from the figure in pencil. Each drawing is created over a period of several sessions, developing the student's eye for accurate proportions, gesture and anatomy.
Pace and Priority: Mastering the Quick Pose
with Stephen Bush

Aug 7, 2023 at 9 am

, runs for 1 week
With Stephen C. Bush and Annalisa C. Shanks
In this workshop, students will work short figure poses to master the quick figure study. Students will learn the value of decision making and how to prioritize those decisions. Working the quick pose will create the opportunity for students to make fast decisions, which will better prepare the student to make intelligent decisions when faced with a longer pose.